More info

School ship Gorch Fock
The first ship of this school series was built in 1933 and the one built in 19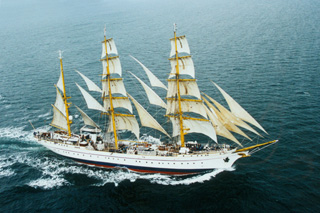 58 it was named Gorch Fock (1880-1916), because a German poet son of fishermen who had always dreamed of being a sailor. He wrote poems and tales about the sea (Fock was not his real name, his name was Johann Kinnau) and after the First World War he was drafted for military service. He ended up going into the Navy and died in a shipwreck during a battle, but his writtings on the spirit of the sailors finished into a symbol of what is sought for cadets who ride the school ship.
Instruction trips cadets last 6 to 7 weeks. "Some things can only be learned aboard, which can not be taught in the classroom. Dizziness is only being shipped "says Schatz (53), who also took this trip as a cadet training in 1976. "I never got so tired and in pain as she recalls that trip.

But I never regretted having followed this path. "