History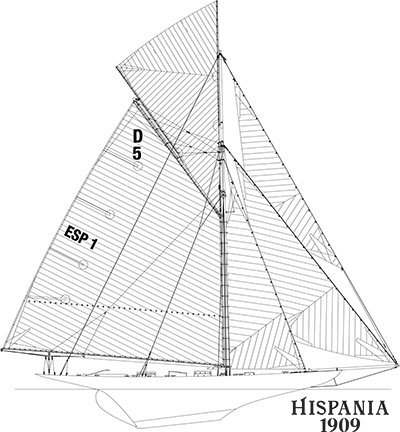 YE. King Alfonso XIII ordered it to be built in 1909 and the Karpad Shipyard of Passages was in charge of shaping it according to William Fife's design. The sloop was changing hands and in World War II he was gutted by the British Navy to make weapons.
Their remains were located in the 1990s in England, the sloop was restored between Fairlie Restoration (England) and Shipyards of Mallorca. The Ebusitana Island Foundation acquired it in December 2010 from a tragic future and returned it to the water in early 2011.
Built entirely of wood, although its total length exceeds 30 meters, the deck is just over 23 and the flotation barely reaches 15, with 4.12 meters of beam and 2.87 of draft.
Hispania sails under the Puerto Sherry grimole which is also its base port and where most of its crew comes from. On board the Hispania, a crew of 19-20 people navigates totally necessary and highly trained to handle a road surface that can exceed 500m2.
The Hispania is designed for the competition so it was built under the rules of the 15 International Meters class. The 15 meter class was conceived purely for competition and its rules were established about the year 1907. 15 meters does not refer to its length, but to the result of a mathematical formula that includes, among others, the length between perpendicular, sleeve and velic surface
This remarkable class of ships, of supreme beauty, competed in large races in the most charismatic ports of the time, including Cowes and San Sebastian. Only twenty units were completed worldwide and of them only four vessels have managed to stay afloat.
The Ebustiana Island Foundation with the collaboration of the Yacht Club of Monaco has managed to re-found the 15 meter International class having completed in 2012 the first European Championship of the Class 15 International Meters, recovered after more than a century without celebrating that has ended with the victory of the British 'The Lady Anne' and with the Spanish 'Hispania' ranked in third position after the dispute of the last regatta, Les Voiles de Saint-Tropez.