SHIPPING COSTS

For most products, the packaging does not exceed 150cm in the sum of its three sides, so that the following transport costs will apply: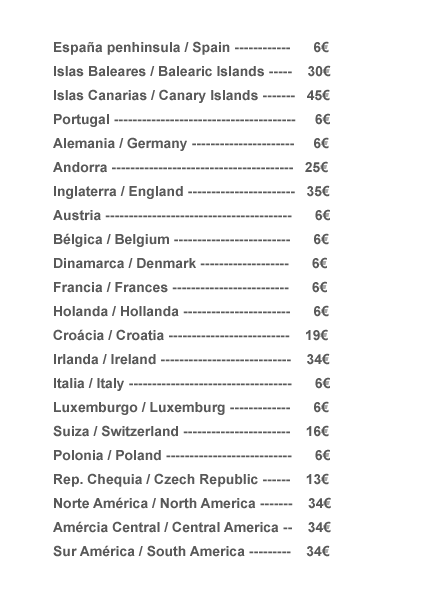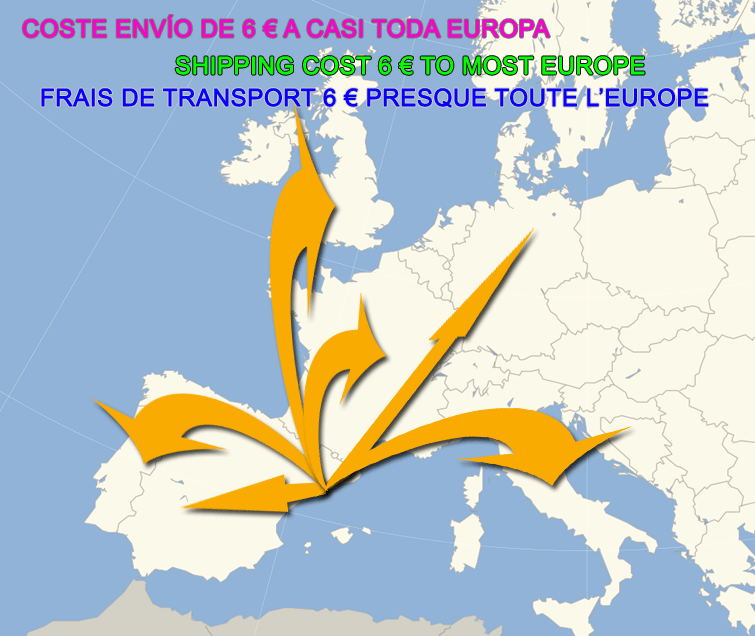 In case you buy multiple products, the cost of transport is not multiplied,  the system calculates the weight and cost for the total purchase volume.

For shipments to areas of the European community with special tax regimes (eg Canary Islands, Ceuta, Melilla, Madeira, Jersey, etc ...) the buyer will be responsible for customs and duty if there were any.

For shipments outside the European community, the buyer will be responsible for customs and duty if there were any. In case of the United Kingdom, from January 1, 2021, all expenses, duties, VAT, etc., that are established by the United Kingdom Government will be responsibility of the buyer.
FREE DELIVERY

For purchases over € 150 (VAT included), the shipping cost will be free for deliveries to mainland Spain and mainland Portugal.
Items marked with "Free Shipping" on the product page is applied for the following destinations:
Peninsular Spain
Continental Portugal
Andorra
France
Italy
Belgium
Holland
Germany
Austria
Luxembourg
Denmark
Slovenia
Poland
DELIVERY TERMS
NAUTICADECOR shipments are made through different first level companies depending on destination country (MRW / TNT / FEDEX / GLS / POSTMAIL).
On each product page maximum shipping time is set, to which must be added the carrier transit time. Approximate transit delivery times are: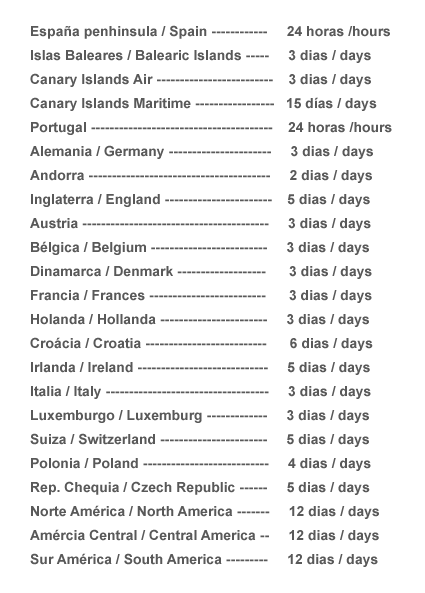 For example, a product that shippment is 48 hours and sent to Germany, the total delivery time is 5 days.
If failure to deliver in 3 attempts, the order will stay in office MRW / POSTMAIL / TNT / FEDEX / GLS closest to the customer for 15 days. If after this period the customer has not picked up the shipment, this will be returned to NÁUTICADECOR applying return costs.
COVID-19: Due to the current situation, shipments may suffer some transport delay.

RETURN FOR BREAKS OR LOSSES

To implement the right to refund the customer must demonstrate the failure within 3 days of receipt, and providing photographs of the condition of the packaging and layout at the time of delivery.

All shipments are insured, except for shipments by POST MAIL, therefore, the client should not fear from breakage during shipping, in case of breakage the customer has the option of returning the money paid or the referral of a new model. 
POST MAIL does not accept the insurance for breaks or losses, so NAUTICADECOR can not be responsible for shipments with this carrier.

All our shipments are well packaged and packed, including notice of fragility in the same, so not having any problems during shipping.