MERCHANT SCHOONER History
A schooner is a ship of two or more masts (the has been up to seven masts), the largest being the mizzen, with the gaff sail rig consists of a knife and sails (jibs, staysails), ie, candles stick arranged along the longitudinal line (or bay), from stem to stern, inste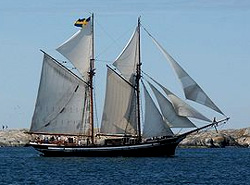 ad of transverse-mounted booms.
The schooner appears in the eighteenth century and has functional ch
aracteristics similar to the brig, which differ mainly by their rig. It is a ship capable of reaching hi
gh upwind direction because of their jibs knife. By its smaller size is designed best for merchant activities than for passenger transport. The rigging knife requires less staff to manage them. The schooners were usually smaller displacement than brigs, but also had more tonnage, which were used in navigation between continents, and in some cases up to three masts.
The schooner disappeared in the nineteenth century with the sailing. His rig had great influence on today's ships sail and modern constructions of large sailing ships as training vessels, amusement, almost always used gear schooner type or its variants.