Titanic History
The story of the Titanic began at a dinner in a London mansion in 1907 during which J. Bruce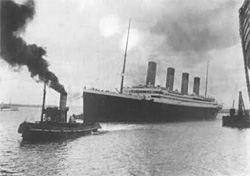 Ismay, managing director of the White Star Line shipping company and Lord James Pirrie planned to build boats that would be 3 degrees since then regarding luxury and elegance.

On April 2, 1912, the Titanic was complete. After making her sea trials, the Titanic was taken from his construction site in Belfast (Ireland) to the port to begin its maiden voyage. The maiden voyage began in the English port of Southampton on April 10, 1912 at 12:00 noon.

The first robbery Titanic in Cherbourg, France to pick up more passengers, and then Queenstown, Ireland, before proceeding to sea for the transatlantic voyage to New York. The first three days of the trip was uneventful until the fourth day. Although the Titanic had received five ice warnings throughout the day April 14, Captain Edward Smith decided not to stop and continued on his way to 21 knots.

Shortly before midnight, at 23:40 hours, while people danced, played and chatted animatedly in different rooms, the lookouts spotted a huge iceberg that was moving at the drift. First Officer William Murdoch ordered instantly turn the direction of travel to stop the boat, but could not prevent the starboard side was ripped by the iceberg. The officer rushed to report what happened to the ship's commander, Captain Smith. Following a review of the situation by the construction engineer of the Titanic, Thomas Andrews, the captain was informed of the seriousness of the accident: the Titanic was sinking and nobody could do anything about it.